How Are Prescription Eyeglass Lenses Made?
You've tried on several frames, gazed in the mirror repeatedly, and found the perfect, to-die-for frames you love. The InVision optician then takes measurements for pupil distance (PD) and frame curvature. You can't wait to see you in your new frames!
Read on, or hop over to our YouTube channel, to see what happens next.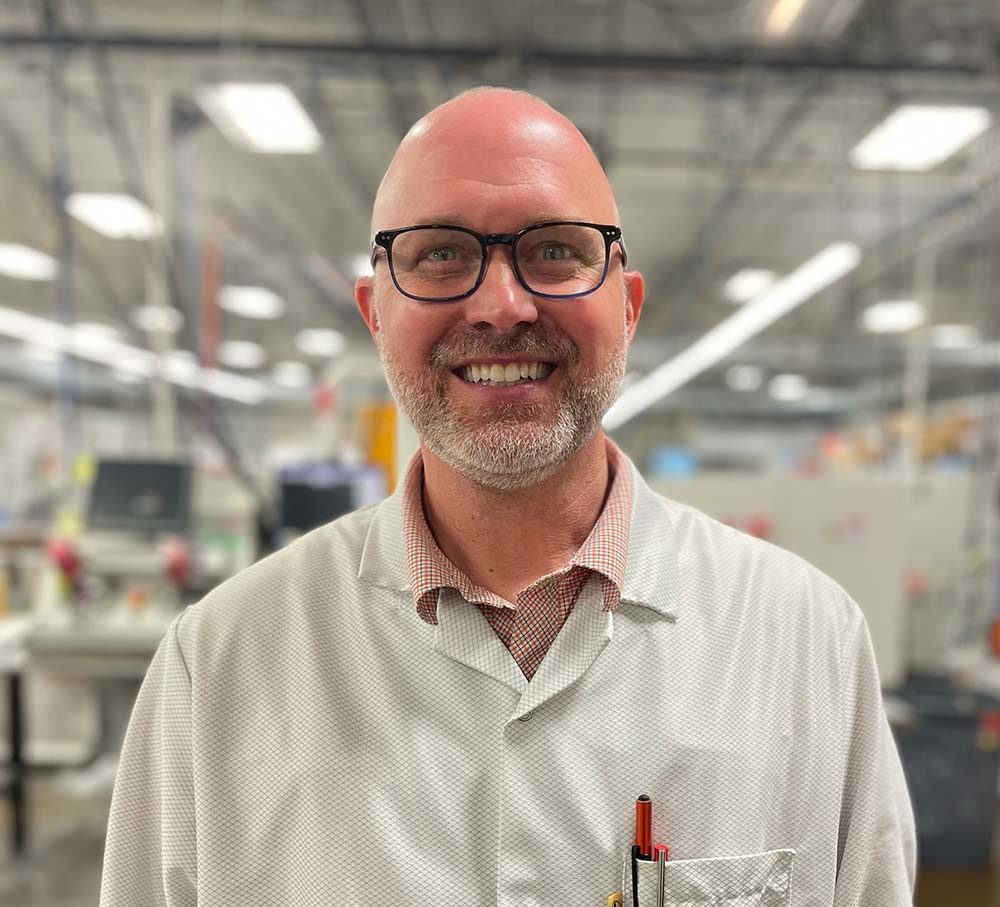 Lens Lab Manager Clint
State-of-the-Art Lens Lab
Your frames, measurements, lens design, and vision prescription are sent to our state-of-the-art lab: LensWorks Optical Lab, one of the area's few independent lens labs. To find out how this all works, we met with Lab Manager, Clint, to see just how prescription lenses are made.
"The lab is like a craft brewery of optical lenses," says Clint. "Unlike chain stores that claim to make lenses in an hour, we use the highest quality lenses–not plastic–and it can take several days to manufacture a pair of custom prescription lenses. Plus, our lens opticians are highly trained with years of experience."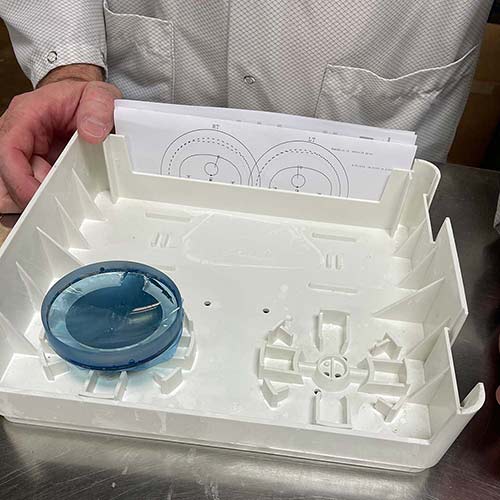 An uncut lens with block attached
Highest Quality Optical Lenses
First, a machine traces the inside of the frames to measure the exact dimensions, and digitally maps out how the lenses will be crafted for your specific vision correction needs. Then the lab technician chooses the actual lens for your frames.

"While nearly every lens starts as a clear lens blank, about the size of a hockey puck, not every lens is the same," says Clint. "There are different lenses for computer use, progressive vision, and transitions that darken in the sunlight." 
After the computer maps out your vision correction based on the frame measurements, a small block is attached to the lens using liquid metal. Robotic arms grip the block as a diamond precision tool cuts the blank down to a thinner shape to create the required curvature for your prescription. Then, the lens is laser marked for lens identification and fitting, and polished.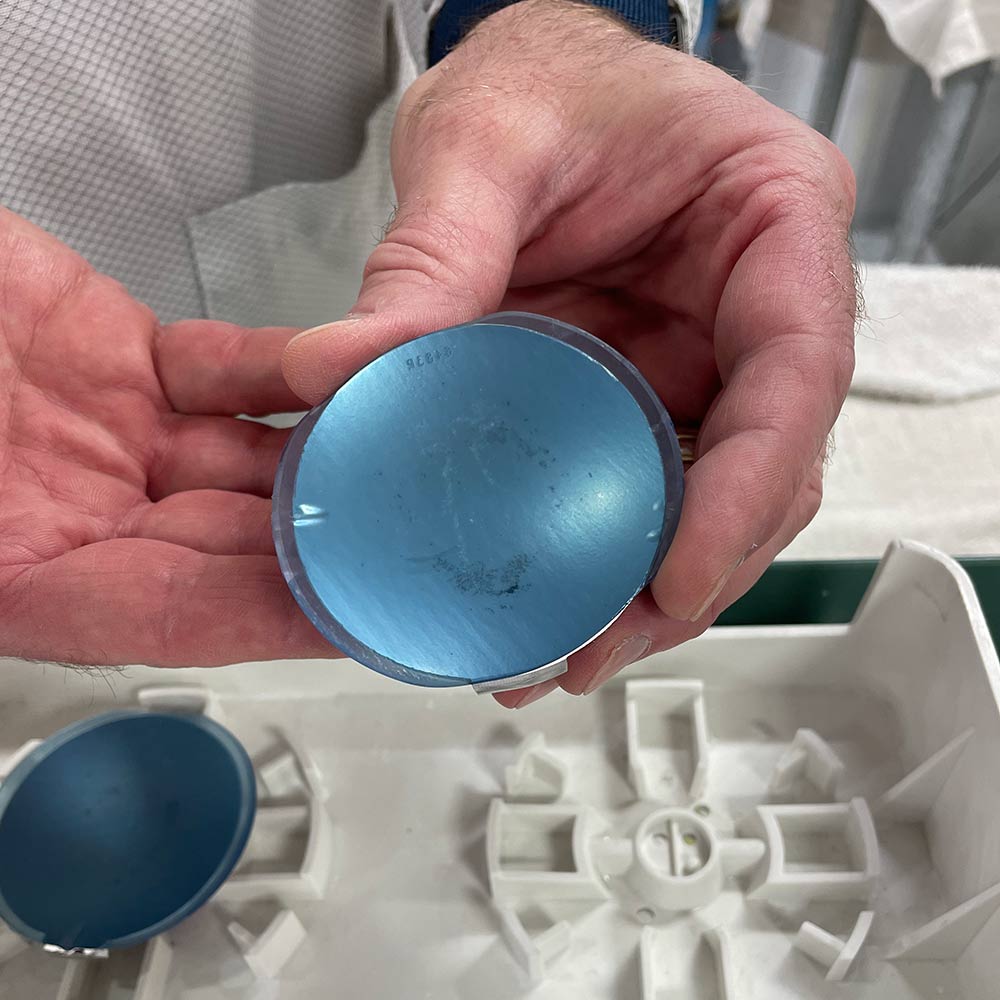 Cut optical lenses
Technically Perfect Lenses
"Lens manufacturing technology is constantly evolving," says Clint. "The digital processes, computer calculations, and machines ensure every lens we produce is accurate to 1/1000th of a diopter."
When the lens is perfectly cut to your prescription, the block is removed and the lens is manually inspected for any flaws or microscopic imperfections.
Still a disk shape, newly-cut lenses go through a multi-step chemical cleaning process before a multi-layered scratch-resistant coating is applied to both sides of the lens; then it is cured for several hours.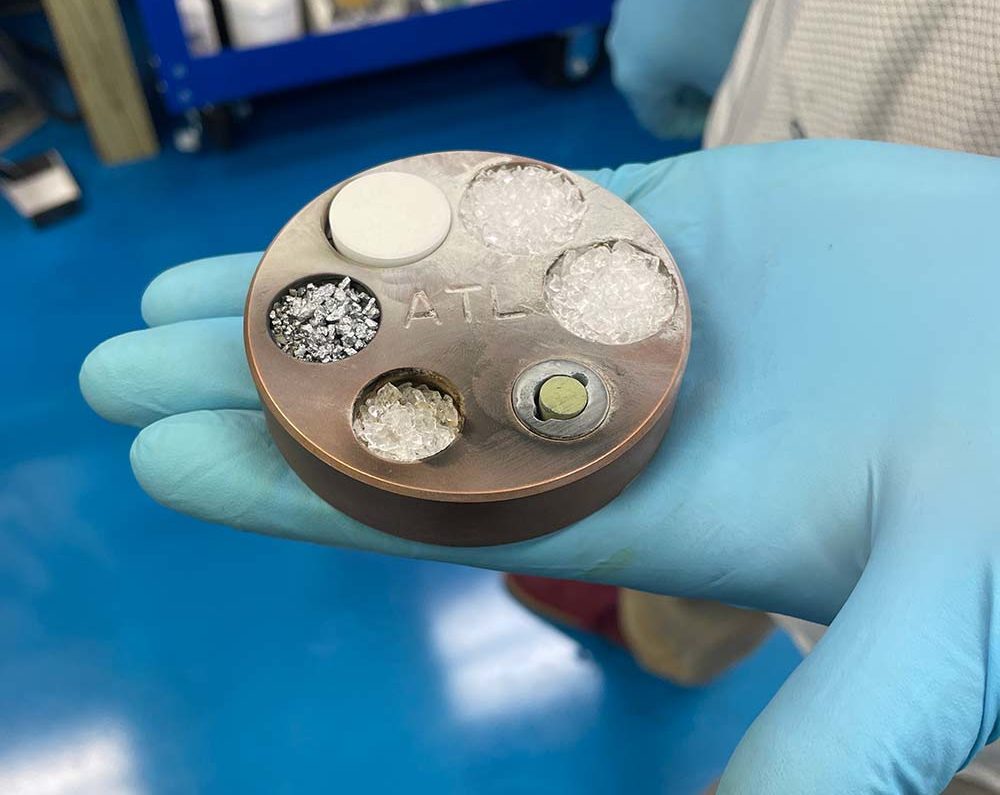 Crucible with AR chemical crystals
Advanced Lens Coating
Still a disk shape, newly-cut lenses go through a multi-step chemical cleaning process before a multi-layered scratch-resistant coating is applied to both sides of the lens; then it is cured for several hours.
Next, an anti-reflective (AR) coating is added to the lenses. The lenses are sealed in an air-tight, vacuum chamber with a hockey puck-sized crucible containing six separate chemical crystals.
"High voltage electricity vaporizes the crystals to create the AR coating. The chemical gasses coat the lenses to help prevent glare, repel dust, and make them easier to keep clean," says Clint. "From start to finish, the entire coating process takes about five hours."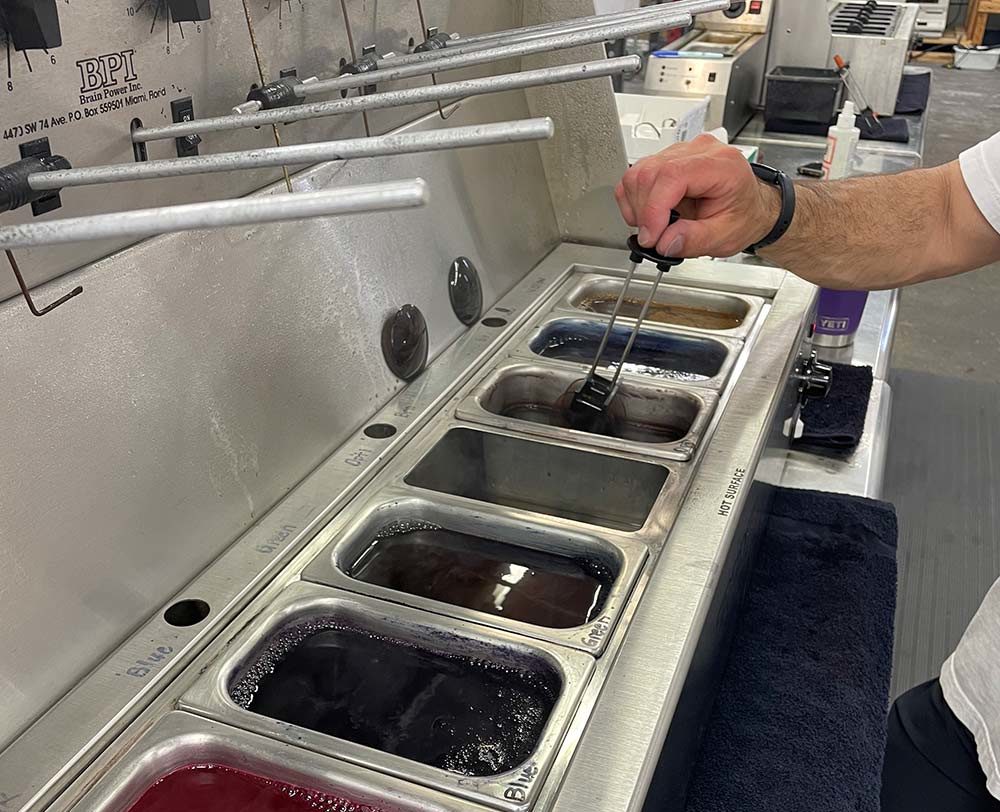 Sunglass lenses are hand-dipped in dye
Attention to Detail
Once the lenses are AR coated, they go into the edging machine, where they are cut down to perfectly fit your frame. Similar to dental instruments, the cutting tools include rough burr grinders and finely-pointed edgers. Depending on the size and style of the frame and prescription requirements, lenses may be beveled, grooved, or have holes drilled for bushings or screws to hold the lenses in place. 
If lenses are non-polarized sunglasses, they're hand-dipped in super hot colored dyes. This allows the lab technician to precisely control the color intensity and gradation, and create custom colors. A simple process, it can take hours for the color to absorb into the lenses.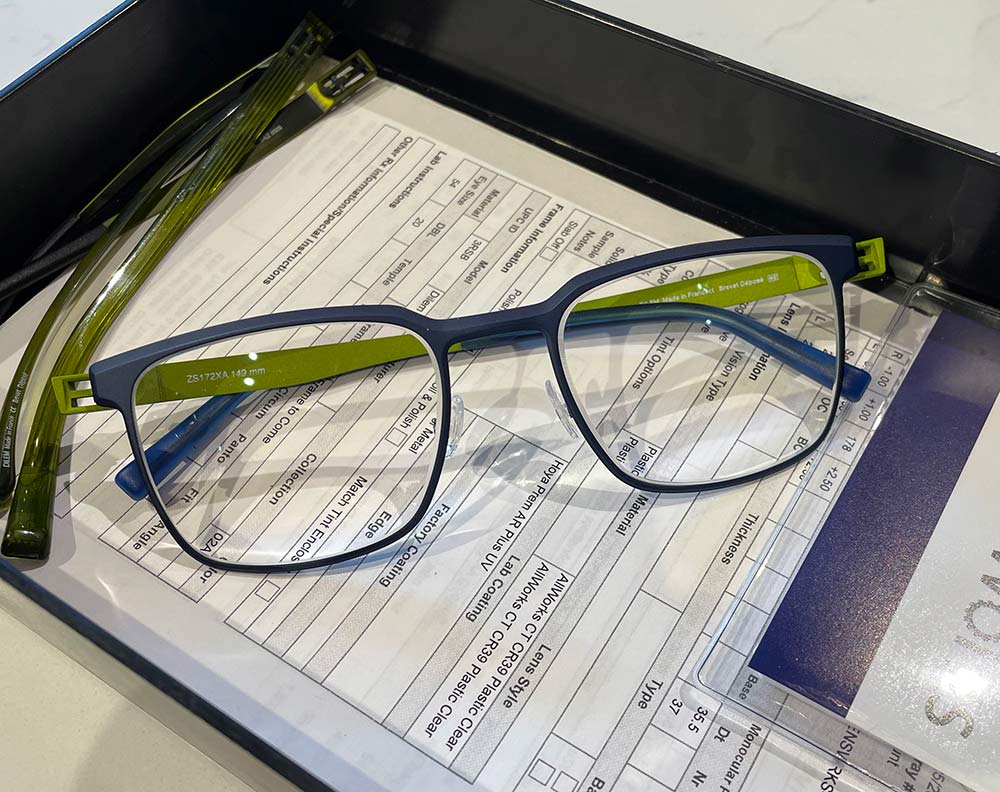 Technologically perfect lenses
Your Best Vision Ever
Finally, the finished lenses are cleaned, polished, and placed into your frames before undergoing a final inspection. When your new glasses are flawless, they are carefully packaged and shipped back to InVision. Upon receiving your glasses at our stores, our opticians do one last final inspection and notify you that your glasses are ready for pick-up.
Every pair of InVision glasses is backed by our Perfect Fit Guarantee; if you don't absolutely love your glasses, bring them in within 30 days for a complimentary restyling. Plus, your new lenses are protected by our best-in-town 2-year warranty: a one-time complimentary lens replacement to take care of any scratches or dings.
How are Prescriptions Eyeglass Lenses Made?