How to Clean Your Glasses the Right Way
Fingerprints, dust and smudges on your glasses lenses aren't just irritating – they can also cause eye strain and headaches and lead to scratched lenses. Here are five steps from our opticians for safely cleaning your glasses and lenses.
First, wash your hands with soap and water before cleaning your lenses. You don't want to transfer any germs or oils from your hands onto your glasses!
Spritz lens cleaning spray on the lenses, or run them under tap water.
Using a 100% cotton cloth, gently wipe the lenses in a circular motion to clean and dry them. Be sure to clean the area where the lens meets the frame to keep debris from building up.
Wipe down the glasses frame and temples. Be sure to clean the nose pad and all the areas where the frame touches your face.
Keep your glasses in their case when you're not wearing them.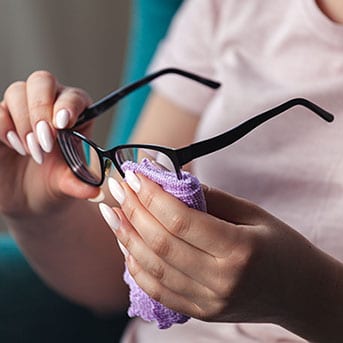 Use a clean, 100% cotton cloth to clean your lenses.
A few more tips to keep in mind:
DO wash your lenses regularly – every day is ideal!
DO use the InVision cleaning spray and a lint-free cotton cloth or the cloth that came with your frames for final touch ups daily. (Need another cleaning kit for the office? Just ask!)
DO use gentle Dawn dishwashing soap for a deeper clean.
DO wash your lens cloth regularly (but don't use fabric softener or a dryer sheet!)
DO use Nerdwax FogBlock to help keep glasses fog-free while wearing a mask (now available online!)
DON'T wipe your lenses when they're dry.
DON'T use your shirt or paper towel to clean your glasses.
DON'T use rubbing alcohol, Windex or other household glass cleaners on your lenses.
For glasses in need of a more thorough cleaning, make an appointment and bring them into one of our four stores. Our opticians can run them through a complimentary ultrasonic cleaning bath to powerfully and gently remove even the most stubborn blemishes and set in gunk.
Finally, for scratches that won't buff out, remember that every InVision lens comes with a best-in-town 2-year warranty. We're proud to offer a one-time complimentary lens replacement to take care of any scratches or dings.