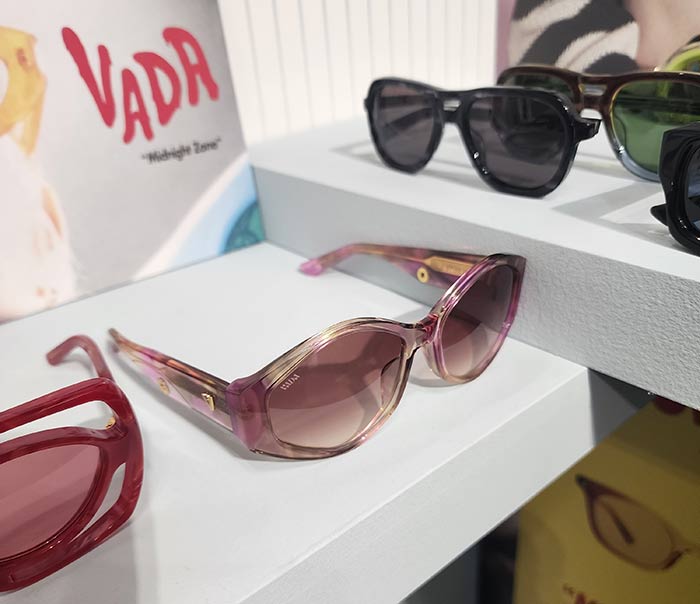 InVision opticians fell in love with Vada at Vision Expo East.
When the InVision delegation saw Vada eyewear at Vision Expo East, the connection was immediate.
"We were looking for a new eyewear line with more color and youthful, classy styles," said InVision Vice President Deborah Hodges.
Vada's bright, happy colors – including Moonstone, a gorgeous layered light blue; Urchin, a bright, punk pink; and Jellyfish, a take on the traditional tortoise with splashes of sea green – are utterly wearable.
"Vada's frames are youthful without being silly," said Deborah. "They're funky, classy, and cool, and–most importantly–they fit like a dream."
Vada made a splash and shook up the male-dominated eyewear industry when it entered the business in 2020. Vada's Katie Caplener, a fine jewelry designer by trade, creates genderless, timeless eyewear in Austin, Texas, with an eye for sophisticated, funky, and unexpected shapes and colors. Every frame is meticulously manufactured by Japanese artisans in micro-batches with the utmost attention to detail.
The brand's commitment to sustainability is apparent, from its wind and solar-powered facilities to 100% recyclable, reusable, and biodegradable packaging.
Vada eyewear is now available exclusively at InVision. Stop into any of our four stores, or make an appointment for a personal consultation to find your next pair of glasses.