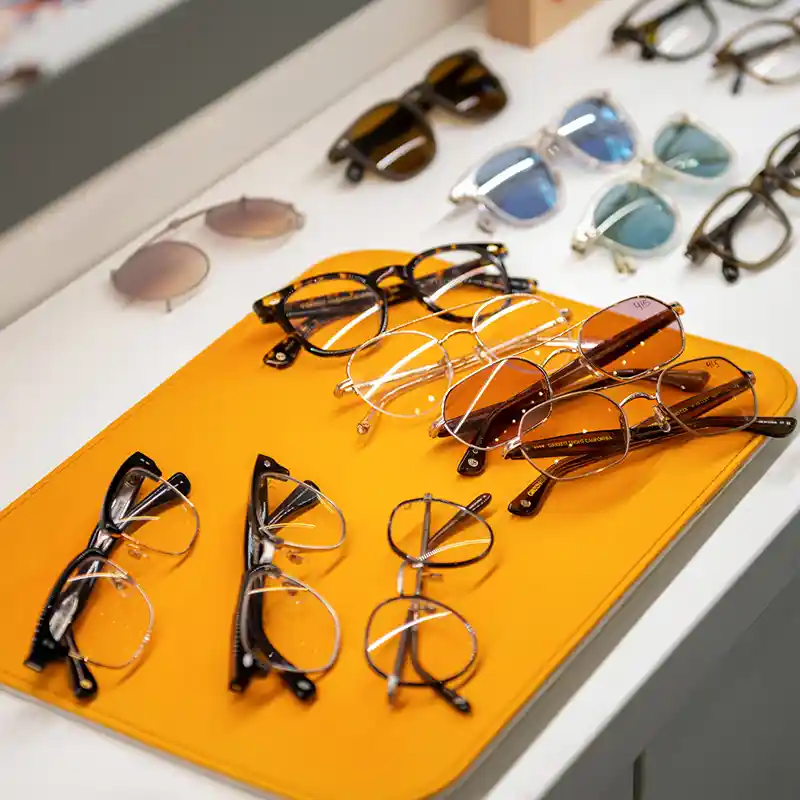 InVision's eyewear selection looks and feels better than chain stores.
Have you ever noticed that the glasses in chain eyewear stores all look the same? That's because they are! Most of those frames – including the ones stamped with fashion designer logos – are injection molded from cheap plastic. Those frames are 'fast fashion' for your face. 
When you walk into InVision, you'll notice immediately that our eyewear selection looks and feels different. That's because we only carry frames from renowned optical designers who understand how to use brilliant colors, premium materials, and utterly wearable shapes to handcraft eyewear that looks beautiful, fits perfectly, and lasts for years. 
We are proud to work with a select group of independent optical designers and artisans, each with the experience and history in the industry to translate their designs to a perfect-fitting frame. Here are a few examples of what makes handmade eyewear superior to mass-produced frames.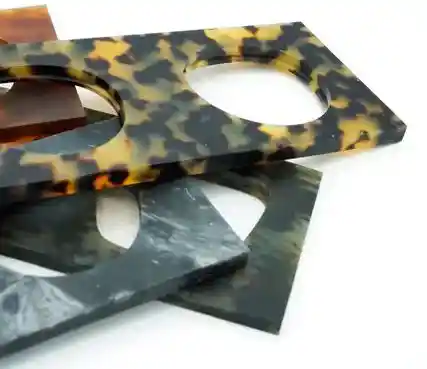 Lowercase NYC only uses Italian and Japanese Acetate.
Premium Materials I
Natural acetate is long-lasting, easily adjustable, holds color brilliantly, and polishes to a fine gloss. Acetate frames, like those from Lowercase NYC, are carved from solid acetate and then polished in a tumbler for several weeks to bring out the full depth of colors and patterns. It's no wonder these frames look shinier, respond better to adjustment, and feel better than injection-molded plastic.
From Götti's high-end Italian acetate to Garrett Leight's bio acetates, it's exciting to see where this technology is going next!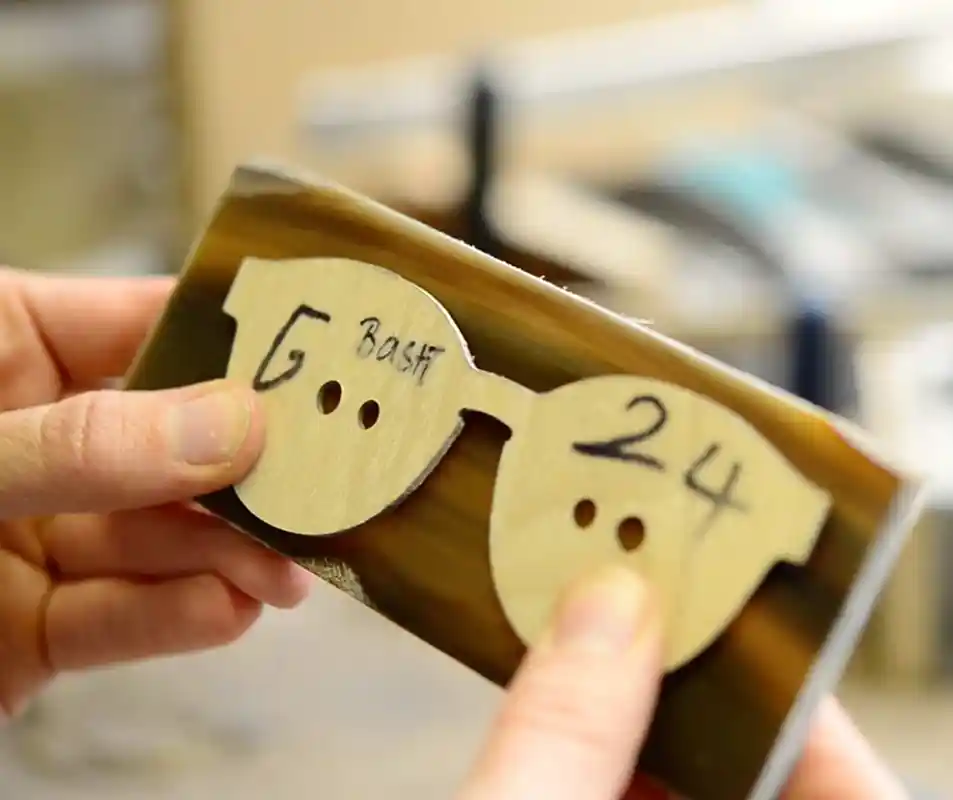 Götti's artisans shape buffalo horn by hand.
Premium Materials II
For a luxurious style that's absolutely original, there's nothing like sustainably and naturally harvested buffalo horn. Every pair of horn glasses is unique and has a soft, warm patina, and the lightweight frames react to the warmth of the wearer and adapt to form the perfect fit.
With clean lines and graceful shapes, Lunor and Götti frames let the buffalo horn do the talking.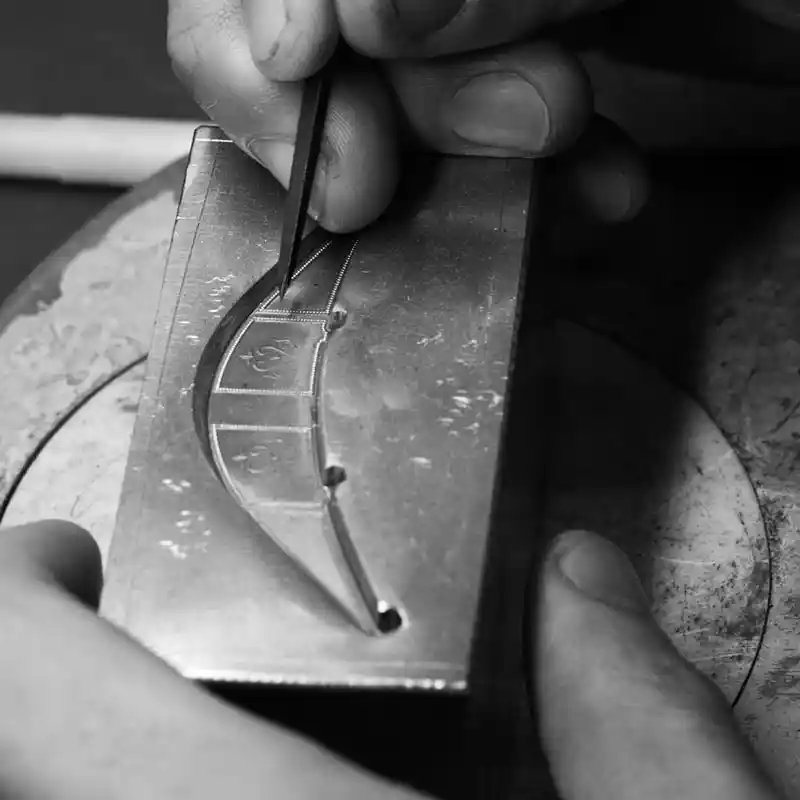 Matsuda artisans hand engrave every detail.
Premium Metals
The same metal used in spacecraft—titanium—is used to create glasses frames that are featherlight and incredibly durable. Matsuda artisans are absolute geniuses at engraving exquisite details in premium Japanese titanium, and Robert Marc NYC masterfully combines lightweight titanium and acetate into classic yet modern shapes.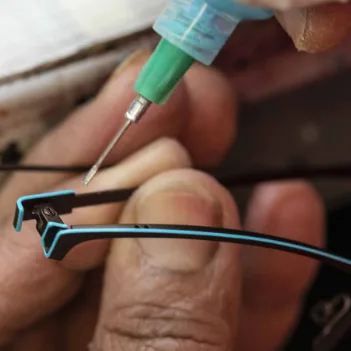 Oxibis artisans hand-paint designer color on frames.
Artisan Made
The French have always had that certain je ne sais quoi, and Parisian eyewear designers are no different! Thierry Lasry frames are entirely hand-made; Face a Face's artisans hand paint and polish; and every engraving, rhinestone, and jewelry placement on Francis Klein frames is done by hand in France. 
Certain materials, like wood, buffalo horn, and leather, demand highly specialized skills that only a handful of optical technicians possess; often one designer will create each piece from beginning to end.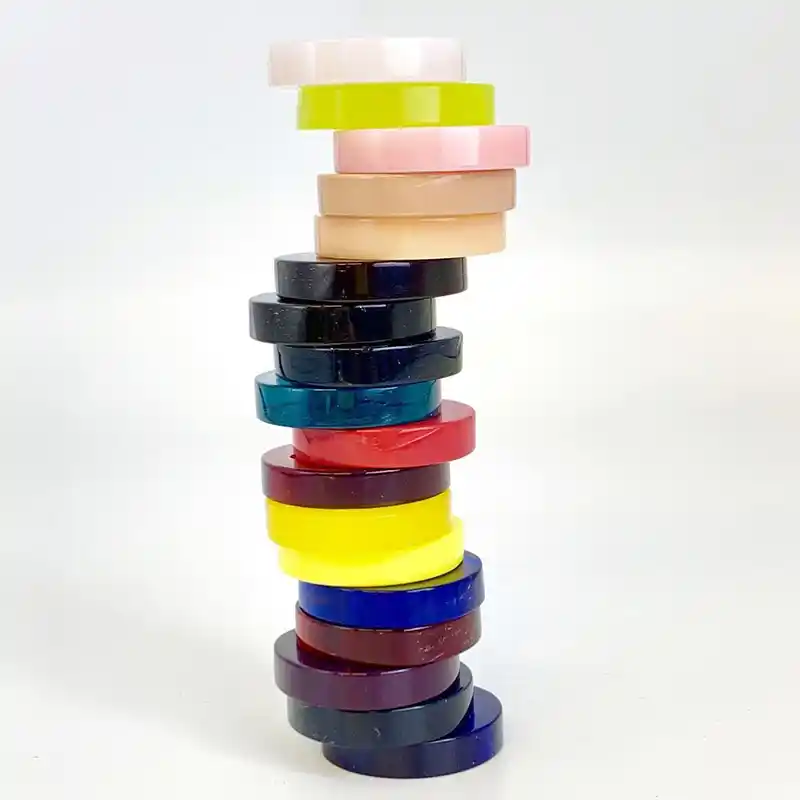 Colorful acetate samples from Lowercase NYC.
Couture Colors
Our eyewear designers create new custom colors and patterns in acetate and metal for each new collection. Every season, Robert Marc NYC, SALT, Lowercase NYC, and Face a Face create new, updated, and unexpected custom colors and treatments that are more beautiful and more interesting than off-the-rack colors.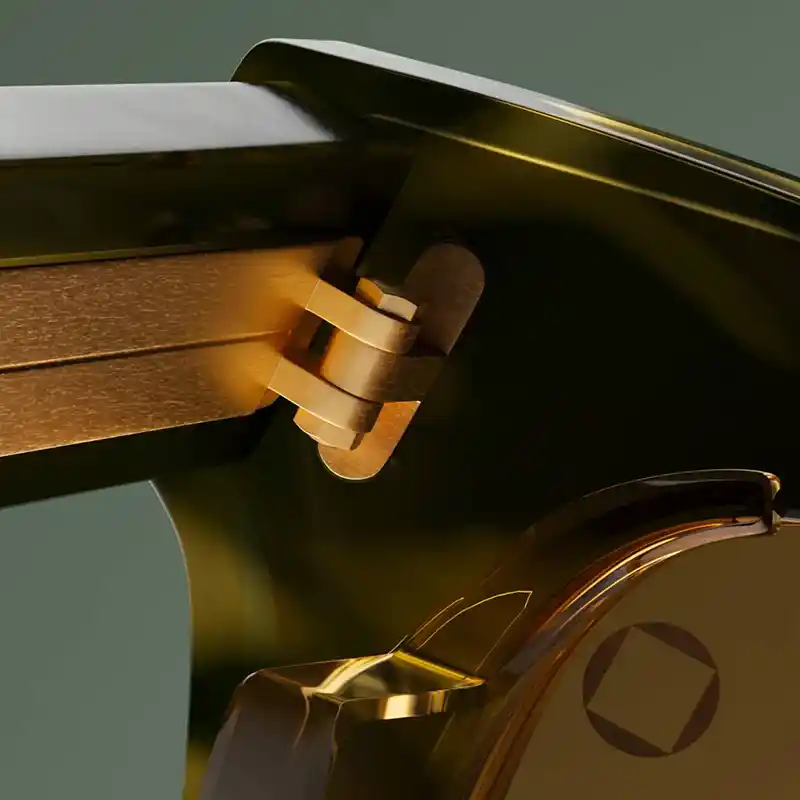 Akoni's designers devised a threaded-tube screw system.
Hinge Design
If you've ever had a loose screw in your glasses, you know that the tiny hinges make a HUGE difference in the frame quality!
Akoni's designers devised an innovative threaded-tube screw system that ensures the screw never loosens or falls out, and Robert Marc's iconic hinge, inspired by historical design and construction, is immediately recognizable. And Dilem's innovative hinge design makes it a *snap!* to switch up the temple style.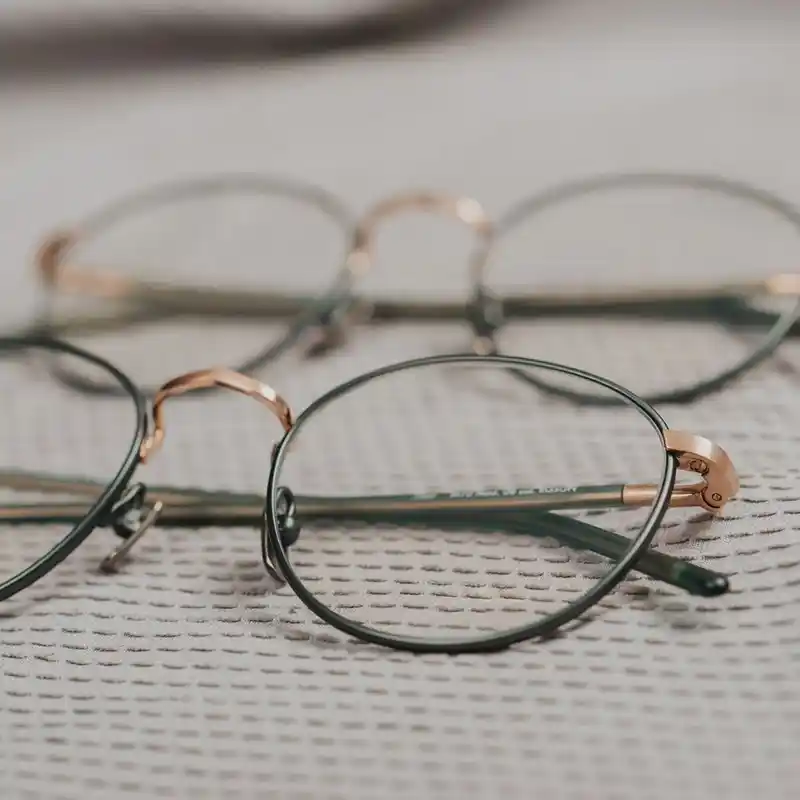 The handmade difference is tangible.
Superior Fit and Finish
Our customers often comment on how our glasses feel when you pick them up; you can literally feel the quality and attention to detail. It also means that, when you invest in handcrafted glasses, they're going (with some care) to still fit and look good after years of daily wear.